Synergy Mail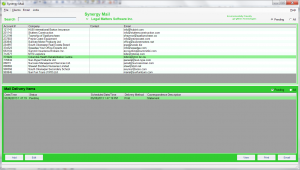 Easily consolidate your customer communication of statements, proof of delivery slips, and invoices with minimal changes in your current process.  Simply print your statements, invoices or other client correspondence into Synergy Mail and it will automatically sort and file them by client.  Relieving you of the manual process. When you are ready to deliver your client's correspondence Synergy Mail will allow you to print for mail delivery or email your clients depending on their preferences.
Click Image to See it in Action
Key Benefits and Features       (Download – Synergy Mail Brochure.pdf)    
Printed correspondence

grouped

by number of

pages

.  Eliminates manual sorting for batch processing of print jobs for your folding/inserting machine.  Have all your one page client documents inserted into envelopes first.  Then move on to your two page bundles and so forth.

Scanned documents

, forms, slips can all be easily and quickly filed to a client to be combined with the delivery of their statements and invoices or other correspondence.

Email delivery

of client correspondence for quicker content response.  Elimination of printed paper, postage, envelopes and reduction in mail room equipment requirements all lead to a noticeable hard cost savings.  The requirement for manual sorting relieves your staff of challenging procedures and ensures accurate client delivery.

Controlled 

email

delivery engine to ensure you meet you internet provider's email rate restrictions.

Automatic population

of Synergy Mail's client database by extracting your client information directly off your printed statements or invoices.  Including importing of custom fields, email address or contact details.

Complete archive

of all correspondence that you have sent to your client.  Easily pull up for viewing, mailing or email a past statement or invoice at any time.