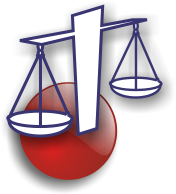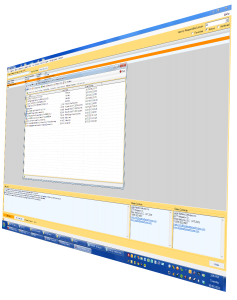 Synergy Matters – Our flagship product encompassing key elements of a law firms daily workflow. From document management, email, scan and fax to  disbursement recovery and time tracking.
Schedule a Synergy Matters DEMO
Email us at demo@legalmatterssoftware.com
Schedule a 15 minute demo and get your choice of Synergy Signature or Synergy PDF free (1 license per firm)
Synergy Matters

is an easy to use client management solution designed specifically for Law Firms. The daily handling of Documents, Posting disbursements, auto capturing of print jobs, integrated scanning with automatic OCR all included in one product. Easily exportable data to your existing accounting system so implementation is straight forward and quickly attainable.
You will dramatically increase your firm's efficiencies by having a legal industry workflow at your fingertips.
Synergy Matters Overview Video (Opens in new window)
Document management tools at your fingertips that are easy to use.
Document Management that works like a standard file folder
Doc Reviews allows for seamless collaboration on documents, one click and you are working on the actual document with the older version saved automatically.
Revisions  the latest revision of a document is always at up front yet all previous versions are just a click away.
Compare one click will allow you to compare 2 or more word documents so that you can see the changes.
PDF Conversion/Merging of word documents with a single button.  Select one document and we convert it to pdf.  Select more than one we will convert and merge as a pdf.
PDF Page Numbering for court binder creation allowing custom prefix/suffix next to the page number such as 'Appendix 1 Page X' placed at the location of your choice
Searchable PDF's are created automatically within Synergy Matters.  Pdf documents are automatically ocr'd in the background providing a searchable archive of all your pdf content.
Document Numbering is an option that can be enabled, so that for each new word document created, a unique document number is placed in the footer and the file name
Document Scanning made easy by having a simple interface for moving your scanned documents to a matter and automatically charging and appropriately naming them
Desktop Faxing directly from the same document interface
Matters Notes  allows you to build a historical record of the file
Chargeable time and disbursement charging are built in allowing all users the ability to post charges with a powerful single export to your accounting program.  Automatic tracking is implemented for functions that we know you are doing and for the matter you are working on without the need for file numbers.
Print Tracking built in without needing to enter file numbers with optional popup on print jobs
My Work Tracking gives you automatic tracking of the tasks and events that you have performed on a matter allowing you to quickly post a charge that represents all the tasks you did no coding to a client required
Chargeable Time / Disbursement Posting with drop down list that can be customize per type of matter and individually matched to different accounting codes
Microsoft Office Plugins for the key functions without leaving your office application.
Microsoft Word Integration Plugin allows for quickly creating a new document based on the content of the current document you have open and optionally applying a new document number
Microsoft Outlook Integration Plugin allows quick filing of copies of incoming and outgoing email into the matter folder as standalone documents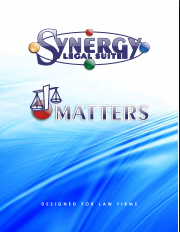 Download Synergy Matters Brochure
TechnoLawyer Article – Synergy Matters Automates the Capture of Client-Related Documents and Email (Open Article)
TechnoLawyer Article – Automation Meets Practice Management (Open Article)
Synergy Matters Installation Overview
 Synergy Matters Components:
MySQL database
Synergy Matters Desktop Client
Optional Synergy Matters Outlook Plugin
Optional Synergy Matters Word Plugin
For evaluation purposes you can install MySQL and the Synergy Matters desktop client on a single workstation. This would allow you to test all the features other than the fax service.
MySQL On a suitable server on your network install MySQL as a background service. You will be asked to create your own root password. Create an additional MySQL database username/password for the Synergy Matters Database and give that user DB administrator rights.  For details MySQL setup instructions you can download our step by step installation guide here Synergy Matters MySQL Guide.
File Server Share a folder on your file server that is accessible to all your users that will be using Synergy Matters.
Synergy Matters Client Install the Synergy Matters Desktop Client on a workstation and run the client. When asked enter the appropriate information for connecting to the MySQL database. Enter the file server hostname and documents root path to the shared folder you created on your file server. Click the "Create new Default Database" button. Synergy Matters will automatically setup a default database on the MySQL server and extract sample documents and clients for you.
Optional Synergy Matters Fax Components:
Fax Appliance Connect your Synergy Fax Appliance to your network via the Ethernet port, connect your fax lines to the appliance and power up the device. By default it is set to use DHCP and will obtain its IP address information from your DHCP server. Check your DHCP server to determine what mac address the Fax Appliance is and assign it a permanent IP address lease so that it will always use the same IP address.
Fax Service Install the Synergy Matters Fax Service on an appropriate server on your network. This needs to be a server that is on all the time and can reach the MySQL database and the File Server folder you shared. Run the "Synergy Matters Fax Administrator" from the icon on the desktop. Enter the IP address of your Fax Appliance, the port CSID's and select which ports will be used for outgoing faxes. Click ok to save your settings.
Synergy Matters Server Requirements:
2008 Standard Server, 2008 Small Business Server or better.

2.4G dual core xeon or better.

Enough space to handle the documents that your staff create with ongoing growth for each new document and each changed document.

Requires MySQL server to be installed approximately 600 Megs.

MySQL database size depends on number of clients, 55000 clients takes approximately 180Megs of space.

Requires Windows Search Services Role to be installed and indexing the root folder where the documents will be stored.

100Megs of ram should be reserved for our fax service to communicate with the fax appliance.

Suggested free ram for caching queries with Mysql database should be at least 1Gig.
Synergy Matters Desktop Application Requirements:
Each workstation should be a modern workstation. A minimum example would be a 2G dual core processor with 500Megs of installation space available.

Additional hard drive space for standard os functionality should be available in the realm of 2Gigs.

Preferred operating system is windows 7, however windows xp or better will work.

At least 100Megs of memory should be available for the desktop application.

The workstation should have additional headroom for general os functionality.
Synergy Matters included features compares to a multitude of competitor products.  See how we compare and how many other products it would take to accomplish what we do easily in one product.
Product Comparison
| | | |
| --- | --- | --- |
| Document Management | Synergy Matters | Worldox |
| Familiar Interface | Yes | No |
| Full text search | Yes | No (Search) |
| Document profiling | Yes (To Matter) | Yes |
| Saving of sent emails to client file | Automatic | Move Required |
| Saving incoming emails | Yes (Move To Matter) | Yes (Profiling) |
| Automatic saving of sent faxes to client file | Yes | No |
| Firm wide and personal templates | Yes | Firmwide Only |
| Matter based security | Yes | Yes |
| Unique document numbering | Yes (Footer and Filename) | Yes |
| Unique document numbering | Yes (Footer and Filename) | Yes |
| Automatic OCR of PDF's | Yes | 3rd Party Option |
| PDF creation and merging | Yes (One Button) | 3rd Party Option |
| PDF page numbering | Yes | 3rd Party Option |
| Favorite matters | Yes | Recent Documents |
| Desktop faxing and receiving | Yes | No |
| Simple scan with renaming | Yes | 3rd Party Option |
| | | |
| --- | --- | --- |
| Disbursement Recovery | Synergy Matters | Copitrak/Billback |
| Laser print | Automatic (No Code Required) | Yes (Code Required) |
| Scan tracking | Automatic (No Code Required) | Yes (Code Required) |
| Fax out tracking | Automatic (No Code Required) | Yes (Code Required) |
| Fax in tracking | Automatic (No Code Required) | Yes (Code Required) |
| | | |
| --- | --- | --- |
| Time Tracking | Synergy Matters | Chrometa |
| Auto tracks  detailed time working on matter | Yes (With Events) | Computer Time |
| Auto codes time for export | Yes | No (Manual) |
| Records email time in and out | Yes (To Matter) | Yes |